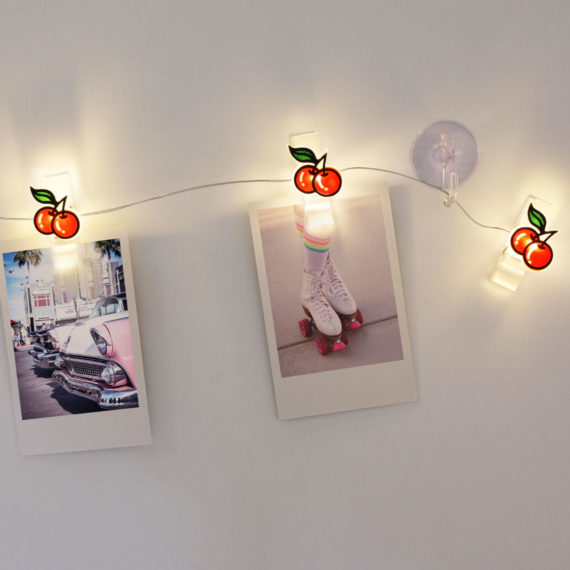 Cherry Light Clips
Battery operated fairy lights with photo clips
207 in stock
Searching for décor that will be the cherry on top? Look no further than Mustard's Cherry Light Clips. Featuring 10 x Cherry-shaped Light Clips on a 1.5m wire, you can use the two plastic suckers to decorate the lights around your mirror or across your window. Whether you fancy clipping up smiling pictures of your nearest and dearest, ticket stubs or even discarded socks (though we don't recommend this), you'll never have to be constrained by pesky plug sockets; our Lights are battery powered! Simply insert 3 x AA batteries (not included) and get your cherry glow on.
Product Size: w 100.0 mm x h 165.0 mm x d 24.0 mm
UK

Free delivery on all orders


(Please allow 2-3 Working days* for delivery)
Europe &
Ireland

£8.00 (Free with orders above £60)


(Please allow 7-10 Working days* for delivery)
Worldwide

£14.00 (Free with orders above £100)


(Please allow 14 Working days* for delivery)
Changed your mind?
If you are not 100% delighted with your purchase or you change your mind for whatever reason you have up to 3 months to return your purchase back to us for a refund or exchange.
It is important that the product is unopened and in resalable condition. Upon receipt of your return we will inspect the goods and provide you with a refund minus the original delivery charge and or any import duties (for orders outside of the EU) within 7 working days.
Want to find out more? Click here.