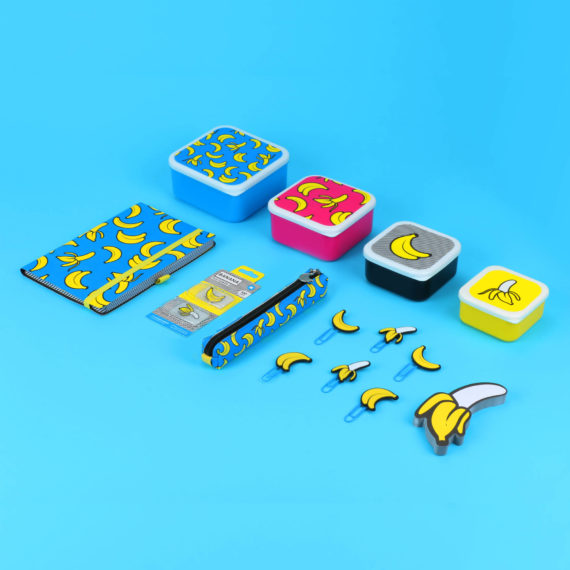 Banana – The Popular One
This set will put you well on the way to desktop stardom and has a little bit of everything
Fruity and fun, our Banana Picture Hangers will add a bunch of personality to the room, and the Banana Snack Boxes will give any lunch that fruity feeling. The Mini Pencil Case, Notebook, Page Markers and Sticky Notes are the extra Banana boost they didn't know they needed and will complete your 5 a day.
What's in the box?
Picture Hangers
Snack Box
Sticky Notes
Page Markers
Notebook (Grid-Dot, 190 Pages)
Mini Pencil Case
Product Size: w mm x h mm x d mm
UK

Free delivery on all orders


(Please allow 2-3 Working days* for delivery)
Europe &
Ireland

£8.00 (Free with orders above £60)


(Please allow 7-10 Working days* for delivery)
Worldwide

£14.00 (Free with orders above £100)


(Please allow 14 Working days* for delivery)
Changed your mind?
If you are not 100% delighted with your purchase or you change your mind for whatever reason you have up to 3 months to return your purchase back to us for a refund or exchange.
It is important that the product is unopened and in resalable condition. Upon receipt of your return we will inspect the goods and provide you with a refund minus the original delivery charge and or any import duties (for orders outside of the EU) within 7 working days.
Want to find out more? Click here.